About Ashram
History
Paranur also called Bakthapuri, means the abode of the supreme in Tamil. A tiny nondescript village nestled between Tirukovilur and Villpuram on the banks of river Pennai (Vena) is today the head quarters of Bhakthi and Nama Sankeerthanam.
In the Puranas, this entire district is mentioned as the Krishnaranya. This agrahara was created and donated to the Brahmins by the Chola kingsNot long ago it housed agraharams and scholars adept in all the 4 Vedas llived here , aptly called Chatur-Vedi-Mangalam.
The village has a Shiva temple, Premambika & Bhathapurishwarar are the main deities. The village also houses a Lakshmi Narayana Perumal temple on the western end.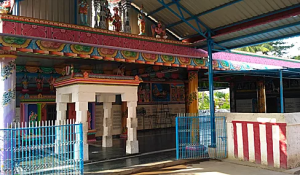 The inmates of the village migrated to different places that left both these temples neglected. Sri Sri Anna set His lotus feet on the behest of Sri Nagraja Srowthigal in 1957 & it marked a new begining of prosperity for the village. The once dry, barren land with cacti and nettles all around, transformed into a lush green vegetation in no time.
Baktha Kolahalan decided to make Paranur His home. So Sri Anna constructed a small temple and the first Kumbabishekam was performed in Jan 1965. The temple has Sri Bagavan Naama Bodendral's sannidhi, Muralidharan & Radha's sannidhi, Vaishnava Samhita mandapam and a small Vasantha mandapam where Baktha Kolahalan plays in his swing during the various utsavams. There's a big hall where all Upanyasams, Bhajans & Divyanamam happens.
Location / Contact
Events