Welcome to the gateway of a glorious tradition – THE PREMIKA SAMPRADAYA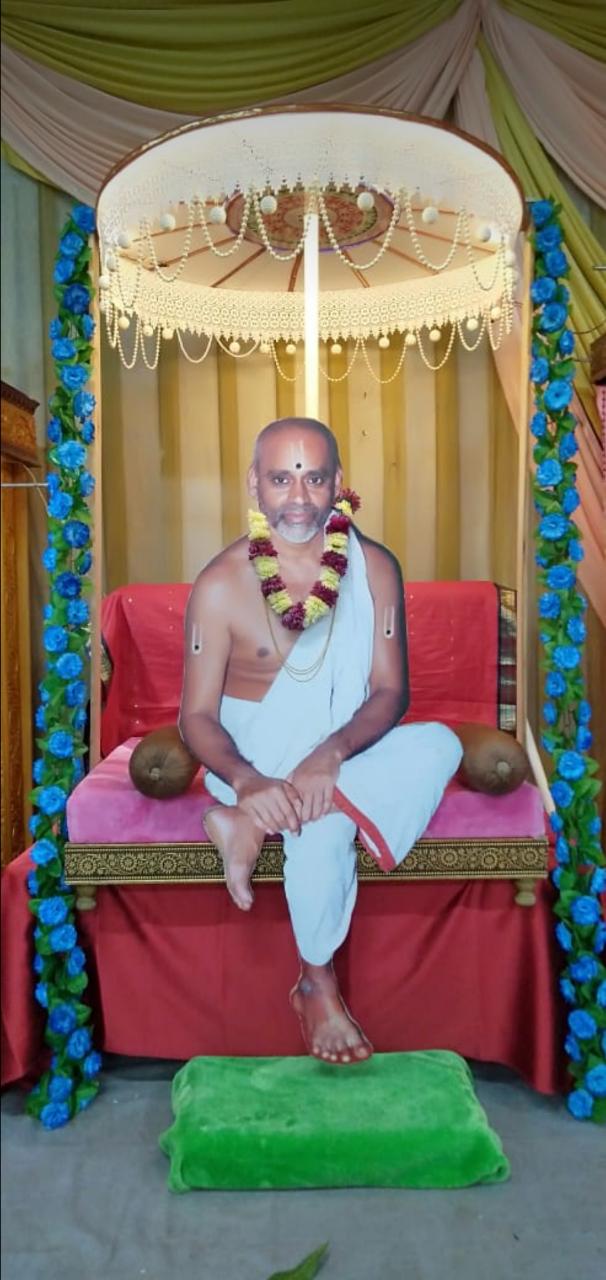 हरे रामेति कृष्णेति नामसङ्कीर्तनं सदा ।       लोकक्षेमाय कुर्वन्तं प्रेमिकं सद्गुरुं भजे॥
(I offer my Pranams at the Lotus feet of my Sadguru Sri Krishna Premi Maharaj who incarnated in this world to show the path of NamaSankeerthan as the only way to attain Hari in the age of Kali.)
Half a century of strife based on religion, caste and creed… the SanatanaDharma's roots shaken and interrogated; the Hindu values and principles of life under severe criticism-these were the dismal conditions during which the Divine Incarnation of our beloved Sri Sri Anna (Sri Sri Krishna Premi Swamigal) occurred.
On the banks of the river Kaveri in Tamilnadu stands a quaint village Senganur-Sri Anna was born to pious parents, Sri Venkatarama Shastrigal and Smt. Parvathi Ammal and was named Ramakrishnan.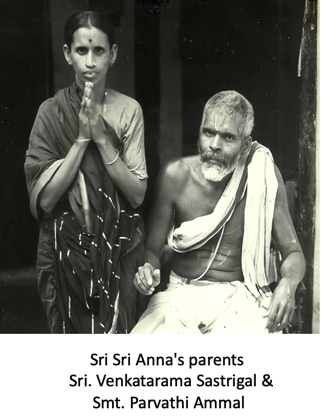 He was born on the Krishnashtami day in 1934 in the Rohini Star. His family were the descendents of the renowned Vaishnavite Acharya Sri Periya Vachan Pillai. He charmed his family and the people of the village alike with his Bala leelas and came to be fondly known as "Ambi".
The young Ambi was joyfully engaged in composing soulful Bhajans and verses on Sri Krishna right from an early age of 8. Next came a period of rigorous Yogic practices and Dhyana. Sri Anna had become a master yogi by the age of 12. With the blessings of his Gurus, Sri Siva Prakasha Anandagiri Swamigal and Sri Bhagawan Nama Bodendral began a different era in His spiritual life. He took to the Srimad Bhagavatham as his pramana grantha [Authoritative treatise].
With the advent of Sri Baktha Kolahalan (the supreme and presiding deity at Paranur) Sri Anna's Upasana Murthi, Sri Anna's spiritual path took a different turn from that of a yogi to a Krishna Premi. Yes! A path that captivates, enchants,exhilarates and easy for all to follow. A new horizon of Prema Bhakthi and Hari Nama pracharam emerged. He founded a glorious sampradaya aptly named PremikaSampradaya.[SriAnna is also addressed as Premikan].
Sri Anna himself performs the Ashta-Yaama sevas to Sri Kolahalan right from Suprabhatham in the morning, the afternoon pooja, the evening rituals till Dolothsavam at night. Like Sri Thiyagaraja Swamigal who sang Utsava sampradaya keerthanas for his Rama, Sri Anna has composed Uthsava krithis for Sri Kolahalan's seva. These kirthanas are sung everyday for the Lord. Quite a few avathara purushas also descended along with Anna around the same time. The key among them are Sri Vasudeva Brahmam, Sri Ranganatha Iyer (Ramayana mama), Sri TC Srinivaan , Sri Krishnamurthy, Sri Nagarajan, Sri Balarama Sastrigal, Sri Nagaraja Srowthigal and Sri Venkatesan to name a few. Though Sri Anna was always in tapas , he married Smt. Madhurambal (Sri Manni) in obedience to Sri Vasudeva Brahmam's words. Ever since, the Divine couple is involved in Sri Kolahalan's Kainkaryaram till date. What ever it takes, Sri Anna makes it a point to be in Paranur every Ekadasi. He follows `the Ekadasi vratham strictly – fasting, performing Abhishekam to Kolahalan, Pravachanam in the evening and Divyanama Sankeerthanam at night.
कलौ कल्मषचित्तानां पापद्रव्योपजीविनाम्। विधिक्रियाविहीनानां गतिर्गोविन्दकीर्तनम्॥
The previous yugas demanded strenuous spiritual exercises to be performed by a seeker to attain Mukthi or liberation from this vicious circle of birth and death. The nature of Kaliyuga does not allow any spiritual practice in its truest form. The Shastras & Srimad Bhagavatham speaks of The Bhagavatha Dharma as the only alternative, to redeem mankind from this sad plight. Sri Anna's Avatara is solely to rejuvenate Bhagavatha Dharmam. A lay man's definition of Bhagavatha Dharmam is chanting Hari Namasankeerthanam.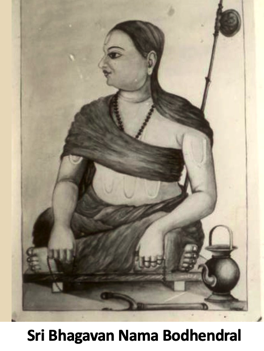 With His Guru Sri Bhagavan Nama Bodendral's Rama Nama Siddhantha, Sri Anna pioneered the spread of Hari Nama throughout the country. He has toured the length and breadth of India from Kanyakumari to the Himalayas multiple times to render discourses on Srimad Bhagavatham, Srimad Ramayanam, Mahabharatham, Bhakthavijayam, Bhagavath Geetha, Azhwargal vaibhavam, Upanishads etc. He is an ocean of knowledge – a reservoir of wisdom. There is in fact no topic that is not dealt by Him. He also founded and established the "Akhila Bharatha Sadhu Sangham" in several cities across India.The objective of the establishment of the 'Akila Bharata Sadhu Sangam' across the world, is to conduct Satsangs which includes Naama Pracharam, Discourses, Bhajans , Akanda Naamams , Radha/Sita Kalyanam and renovation of Divya Desa temples. Sri Anna, in all His discourses highlights that Hari Nama sankeertanam is the only, but sure way to get across this turmoil of earthly life. The efficacy of the Naama, effortlessness involved in its chanting, its all-encompassing nature and its triumph over other spiritual practices are reiterated by Sri Anna time and again. The mammoth task of restoring Santana Dharma was spear-headed by Sri Anna and is carried forward diligently by his Sishyas and his children. Sri Anna performed Acharya Pattabishekam for Sri Hariji in 2009 . Sri Anna incessantly engages himself in Nama prachara and initiates seekers to chant Hari Naama, irrespective of caste, creed, religion and gender. Sri Anna has also composed numerous Granthas(texts)in many languages in various genres that has the wisdom of the Vedas, the Upanishads , the Puranas and the Divya prabandams encapsulated in them. This makes Sri Anna no less than Saint Veda Vyasa himself. The prolific output of all kritis dedicated to Sri Bhaktha Kolahalan expounds the abundant love and desire of an earnest Bhaktha to be in unison with the Lord. The gamut of these verses makes one wonder if Sri Anna is Sri Thyagaraja or Purandaradasa or Bhaktha Meera. Refer Sri Anna's Works for more.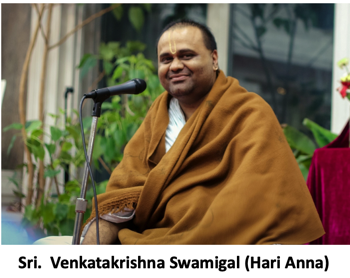 नामसङ्कीर्तनं यस्य सर्वपापप्रनाशनम्। प्रणामो दुःखशमनः तं नमामि हरिं परम्॥
SriAnna has established Bramhasabha to spread Bagavatha Dharmam throughout the world. Bhajans, Parayanams, Pravachanams etc. are being conducted worldwide by Bramhasabha members. To describe Sri Anna with mere words is a futile exercise; neither will one be able to quantify his contribution to mankind. Like how Brahman can't be explained in words, so is THE GREAT PHENOMENON – Sri Sri Anna. HE is to be EXPERIENCED
————————————————————————————————————————————————————————————————————————————————————————-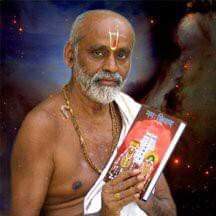 பரனூர் மஹத்மா என்று சொல்லப்படும் ஶ்ரீ கிருஷ்ண ப்ரேமி சுவாமிகள் பரம வைதிகர். சம்பூர்ண வேத அத்யயனம் நமது ஶ்ரீ ஜெயேந்த்ர பெரியவாளுடன் செய்தவர். ரிக் வேத்த்தை பெரியவா அத்யயனம் செய்த அதே சமயம் அவருடனேயே பால பருவத்திலிருந்து யஜுர் வேத்த்தை அத்யயனம் செய்தவர். அவருடைய பால பருவத்திலிருந்து பழகியவர் என்பதை ஒரு போதும் சொல்லி எந்த சலுகையும் தனி மரியாதையும் எதிர் பார்க்காத ஒரு உத்தம சாது.
சமுத்திரம் போல ஆழமான சாஸ்த்ர ஞானமும், வித்வத்தும், வேத பாண்டித்யமும், வினயமும், வற்றாத கருணை கசியும் சாகரம் போன்றவர். இன்றும் நம்மில் பலருக்கு குல தெய்வமாகவே வணங்கப்படுபவர். வாக் வன்மை, குரல் வளம், அபார ஞாபக சக்தி , நிச்சலமான பகவத் பக்தி என இந்த கோர கலியிலும் நம்மிடையே சர்வ சகஜமாக, பரம ப்ரீதியோடு பழகும் ஒரு ஞானி ! ஆழ்வாராதிகளையும் நாயன்மார்களையும் பற்றி கேள்வி ஞானம் மட்டுமே உள்ள நமக்கு , அவர்கள் சொன்ன வண்ணம் வாழ்ந்து காட்டும் பரம ஏகாந்தியான ஞானி ! தான் சுவைத்த பாகவதாதி ராமாயண க்ரந்தங்களை அந்த க்ரந்த கர்தாக்கள் சொன்னவண்ணம் நமக்கு வழுமூண பிசைந்த தச்சி மம்முவை சாலப்பரிந்து ஊட்டும் தாயாரை போல தன் சரீர சுகத்தையும் எண்ணிப்பாராமல் , வ்யாச பீடத்தில் அமர்ந்தால், ஒரு சொட்டு தண்ணீர் கூட பருகாமல், போட்ட காலை மாற்றாமல், ஆரம்பித்த குரலும் இனிமையும் சுவையும் கடைசி சொல் வரை குன்றாமல் கார் கால மழையென வர்ஷிப்பதில் இவருக்கிணை இல்லை .
என்ன ஒரு மதுர ஸ்வபாவம். ! சட்டியில் இருப்பதே அகப்பையில் வரும் அல்லவா ? அந்த தயையும், பரிவும், கருணையும், பக்தியும், ச்ரத்தையும், ப்ரீதியும் அவரது ஒவ்வொரு சொல்லிலும். அந்த கால பக்த விஜய சந்துக்கள எப்படி வாழ்ந்திருப்பார்களோ, அவ்விதம் இன்று நம்மிடையே பரம பாகவதரான ஶ்ரீ ஶ்ரீ அண்ணா என அன்போடும் ஆசையோடும் அழைக்கப்படும் நமது ஆத்ம சகா ! நாம் அனைவரும் கடைத்தேற வேண்டும் என அனுக்ஷணம் நமக்காகவே வாழும் பரமோத்தம சாது . கிருஷ்ணர் அவதாரம் எடுத்த அதே நாளில் பல ஆயிரம் வருடங்கள் கழித்து நமக்கு கீதை எனும் அமுத்த்தை வாரி வழங்கும் ஶ்ரீ ஶ்ரீ அண்ணா ! அவர் நினைப்பே மனதில் எத்தனை இனிமையை கொண்டு வருகிறது !