Festivals for Baktha Kolahalan
Brahmaotsavam – This is the major annual festival for Baktha Kolahan during when He is taken on  a procession all the 10 days in different vahanams. Click here to view some of the  Brahmotsavam pictures. The procession is accompanied by Bhajans and Veda Parayanam. Sri Anna accompanies Kolahalan throughout the village. On the 6th day Sri Anna performs Rukmini Kalyanam. The 9th day is the Car (Ratham) Festival which  is witnessed not only by the thronging crowds of the neighbouring villagers  but also by all the Paranur natives settled elsewhere. The same evening Kolahalan visits the river  Vena, for Teerthavari. Sri Anna sings Govindha Shatakam and performs Hari katha in the evenings during this time.
Navarathri Utsavam – This is a 10 day festival and Sri Anna sings Radhika Shatakam in the evenings. The utsavam ends with Radha Kalyanam on the Vijayadasami day and many of Sri Anna's disciples (patasala students) pay a respectful and gratetful visit to their Beloved and loving Guru -Sri Sri Anna.
Pakshotsavam (Fortnightly Festival)
Wherever Sri Anna travels, he makes it a point to be in Paranur from Dasami evening onwards. From Dasami night 10 pm until Ekadasi morning 4 am is Akandanaama (the continuous chanting) of the Mahamantra, Hare Rama..Hare Krishna.
On the Ekadai day, Sri Anna performs abhishekam for Sri Baktha Kolahlan. Early evening, Sri Anna delivers upanyasam  followed by Vishnu Sahasranaamam,  Bhajan and Divya namam.
On the Dwadesi day Sri Anna performs Unchavarthi on the streets of Paranur with a flock of bagavathas and devotees singing His compositions and walking along with Him.
It would not be an exaggeration to say that the stride of Anna during the Unchavriti is a sight to behold.
Some of the important Ekadasis are Aashada Ekadasi, when Sri Baktha Kolahalan first reached Sri Anna, Kaiseeka Ekadasi and Vaikunta Ekadasi.
Adhyayanotsavam – This is a 10 day festival during Dhanur month (Dec-Jan) and Sri Anna sings Keerthanavali & Godha Prabandham during this time. On the last day of the utsavam Sri Anna performs Godha Kalyanam.
Vasanthotsavam – This is a 10 day spring festival that falls in May-Jun every year (Vaikasi month) when Sri Anna sings Yugala Shatakam and performs Rasotsavam followed by Radha Kalyanam on the last day.
Theppotsavam – The Float festival in the village pond for Sri Baktha Kolahalan happens on the 5th day of Thai month in Jan. The Lakshmi Narayana Perumal visits to the Vena River (Pennai river) that morning for Teerthavaari.
Raasotsavam – In the month of Karthigai (Or Aippasi at times) on the full moon day, Sri Anna performs Rasotsavam for Baktha Kolahalan . The same day, abishekam is also performed for Muralidharan  & Radhai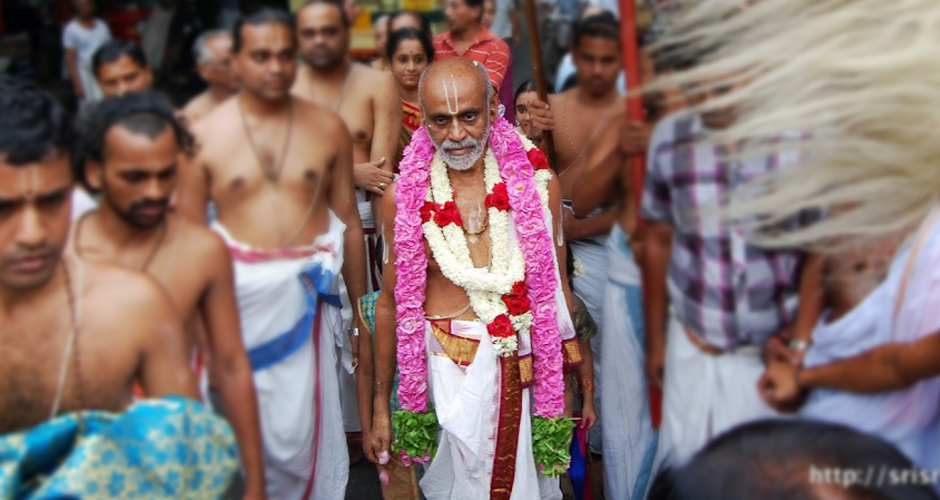 Nithyotsaveth Baveth Teshaam- Nithyashree Nithya Mangalam….
Infact,everyday is an utsavam for Baktha Kolahalan as He enjoys &amp, delights the bakthas too with these events. His Ashtayama Seva – Right from the Suprabatha until Dolotsavam and Bhajan & Parayanam in between -is the Bagavatha Dharma way of living. The air is always filled with Nama Sankeerthana .All activities here revolve around Sri Anna & Baktha Kolahalan .
Sri Anna says Baktha Kolahalan's very nature is " He gets delighted seeing the Bakthas and also in turn  delights them .  With a galore of utsavams lined up throughout the year need we say more? It is sheer ecstasy that bhaktas experience here. Even an accidental visit to Paranur makes one fortunate and blessed.